Gas-electric water heater repair and maintenance plans.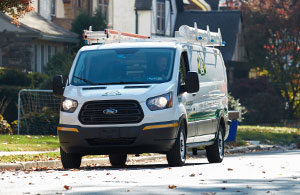 Damage and repairs resulting from a hot water tank leak or full tank discharge can total thousands of dollars. Our natural gas hot water system service plan helps ensure you're your system is regularly maintained to prevent potential problems before they happen and keep it running at peak efficiency to help you save on energy costs.
Our service plan includes:
On-call access to water heater service — 24 hours a day, seven days a week.
We're here for you, whenever you call for you to get repairs done fast before they become bigger problems. There are no charges for services covered by this agreement when performed between 8am and 5pm, Monday through Friday, excluding federal holidays. If you request service for arrival prior to 8am or after 5pm, on a federal holiday (a day when the post office is closed) or weekend, there will be a diagnostic fee unless you have purchased the 24/365 option on your heating plan.
Free service visits on covered repairs.
Keeps your water heater running at peak efficiency and our plan also covers service visits for covered repairs.
System check-up.
You should always consider a periodic system check-up to keep things running at peak efficiency. This service is available at an additional cost. Customer-requested inspections may be scheduled between March 30th and September 1st. This schedule will allow us to optimize our response to your emergency service needs during the heating season.
15% discount on regular rates.
You get a 15% discount on our regular rates for any repair work not covered by your plan.
Professional repairs by local technicians.
By calling us, you're accessing some of the best repair technicians in the business. They are experts at keeping your system in peak condition.
Have any questions about water heating equipment services and repairs and services? Call 877.359.8781 today!