Propane and natural gas powered standby generators.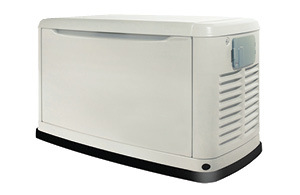 Having a backup generator is essential for staying safe and making sure that life goes on as normal during power outages caused by downed wires or major storms. In fact, the extreme weather of recent years highlights that having a standby generator really is a necessity for any home, from keeping food from spoiling to making sure that any critical medical devices remain powered up.
Think you don't need a standby generator? Think again. Here's why:
3.5 million people experience a power outage each week.
You can lose over $200 in food due to spoilage from powerless freezers and refrigerators.
Basement flooding due to unpowered sump pumps can cost over $20,000 in repair and replacements costs.
It can cost over $150 a night to stay at a hotel for you and your family.
As your local home service experts, you can trust us for all of your standby generator needs, including:
Natural gas and propane powered whole house standby generators that feature automatic transfer switches to turn power on as soon as your utility's power goes off
Expert insight to help you choose which generator best fits your budget, home and particular needs with attractive financing for qualified customers*
Professional, certified technicians to take care of all of your generator tune ups, repairs and service needs, anytime you need them, 24/7, whatever the weather, every day of the year.
Contact us today to learn more about our generator options at 877.359.8781!