Oil heat system service plans.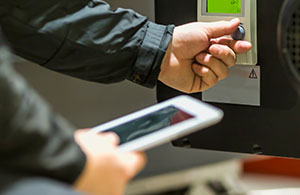 Count on Burke Energy for your heating oil service plan needs. We offer two different plans to fit your needs. Each plan provides the tune-ups, repairs, and system maintenance to give you peace of mind all year long.
Two great service plan options. Choose which one is right for you.
Advantage plan.
The Advantage Plan provides…
24-hour emergency service
Basic equipment parts coverage
Scheduled 17-point heating system tune-up*
No diagnostic fee charge if required services are covered under agreement
Elite plan.
The Elite Plan provides all the features of the Advantage Plan, plus…
Increased coverage for hydronic boilers, warm air furnaces, and additional parts
24-hour emergency service
No diagnostic fee on covered repairs
Additional options including additional zone coverage, oil fired hot water heater of Aquabooster
*Scheduled tune-ups available from March 15th through October 15th. Available dates after October 15th subject to weather conditions.
Advantage and Elite level plans require unit inspection and pre-approval by our technicians. Please call for Agreement Terms & Conditions for complete coverage details.
Download the brochure for detailed plan information
Looking for additional coverage? Look no further!
We have optional enhancements and additional agreements available which are priced separately and can be added to your existing plan. These enhancements will extend your coverage, providing comprehensive protection in case you have unexpected repair costs.
Additional zone coverage.
Covers circulator, circulator relay, flow valve, thermostat (heat only) and zone valve. This option is included in the Platinum Plan.
Oil fired hot water heater or aquabooster.
Repairs, replacement parts, and routine system checks, excluding storage tank, coil and combustions chamber replacement. This option is included in the Platinum Plan.
Radiant floor coil.
Should radiant floor coils fail, Burke Energy will provide a $300 credit towards the purchase of baseboard heating equipment!
Summer/Winter air furnace coverage.
Blower motor up to ½hp and air conditioning thermostat.
Heating boiler/warm air furnace replacement.
50% credit for boilers and furnaces that are 15 or 20 years old (including boilers over 2.5GPH, furnaces over 150,000 BTU, and any furnace containing a Ducane company manufactured heat exchanger), where the equipment failure is related to the exchanger. Does not include modifications needed to accommodate new equipment. We will select the replacement make and model. Upgrades at additional costs. Excludes permits, chimney inspections and building code requirements.
Oil tank agreement.
This agreement gives you an allowance of up to $1,200 credit towards an underground replacement tank or tank repair, as well as a $750 credit towards an above ground tank, in the event of an oil tank failure. The allowance is payable as a reduction to our normal retail prices for the specified model. Burke Energy must perform the replacement or repair. Subject to terms and conditions of the Tank Contract. Available to automatic delivery customers with Platinum, Gold, or Silver service plan. Additional terms and restrictions apply. Call for more details.