Home heating oil resources and FAQs.
Our informative how-to guides and educational resources are designed to help you stayed informed on all issues regarding heating oil in your home. Before you call a professional, take a look at some of these home heating oil resources to see if you can get your questions answered without having to spend a dime. We have everything from very basic guides defining some of the key terminology around oil heat appliances and services, to more in-depth articles to help you identify issues and diagnose problems before you call a professional. In the world of home maintenance, knowledge is power. The more you know about how your home operates, the more money and time you can save on house calls and replacements. If you're looking for a home heating oil prices, equipment or delivery, discover Burke Energy's comprehensive heating oil services.
What is oil?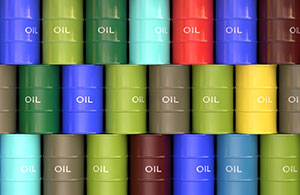 Oil is the remains of ancient plants and animals, compressed deep in the earth into liquid strings of hydrogen and carbon. Ancient Greeks gave it the name petroleum, from the Greek "petra" meaning rock, and "oleum" meaning oil.
---
The modern history of oil began in the 1840s, when a Canadian geologist discovered that crude oil could be distilled into kerosene to light lanterns but the heating oil industry truly began when the oil burner was invented to take advantage of crude oil discoveries in California.
How oil heats a home.
Oil makes a long journey from deep in the earth to the tank in your home. It begins when crude oil is turned into a series of products, including gasoline, jet fuel, and heating oil. Oil is extremely stable, and must be heated above 140 degrees before it will begin to burn. Inside your furnace or boiler, your oil burns extremely hot – 400 degrees hotter than natural gas or propane – and is extremely efficient in heating your home!
The oil industry today.
More than 3/4 of oil in the U.S. now comes from outside the Organization of Petroleum Exporting Countries (OPEC) and our supplies often arrive from Canada, Mexico or Venezuela. It's because of these extensive resources, matched with our history as a trusted, local home heating oil provider, that we've never run out of oil.