Ductless mini-split heat pumps.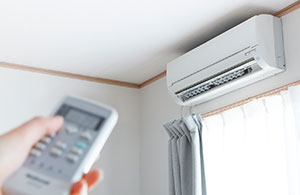 These may be more familiar to you as an energy-efficient home cooling solution but ductless mini-split systems also have a heat pump function, making them a smart home heating solution.
Why install a ductless mini-split heat pump?
There are many benefits to installing this type of heat pump system:
Compact, quiet and more flexible to heat specific home locations.
More economical than a traditional system that generates heat for your entire home rather than specific locations.
Functions as an air filter.
Provides humidity control
Comes with a wireless remote and timer for ease and convenience.
How does the heat pump in a ductless mini-split system work?
Unlike traditional heating systems that use electricity to heat directly, these systems use electricity to move heat from one place to another.
Low-pressure liquid refrigerant is vaporized in the heat pump's evaporator, which then passes into the compressor. When the refrigerant pressure rises, the temperature rises, too.
The heated refrigerant then passes through a condenser coil within the water storage tank, transferring heat to the stored water there.
Ductless mini-split heat pump installation and repair services.
You can rely on us to take you through the process of purchase and installation of your new ductless mini-split system. Our team will help you decide the equipment that's right for you. One of our heating equipment experts will visit you to provide a no obligation assessment and discuss the best size and type of energy-efficient ductless mini-split system is right for your home and specific needs.
Please call 914.769.5050 to learn which heat pump option is best for your home comfort needs.
Ductless mini-split systems.
Fujitsu is our preferred ductless mini-split system manufacturing partner. Choose which EnergyStar qualified and rated wall mounted heat pump system is best to heat your water and help you save.
Heating_Ductless_Heat_Pumps