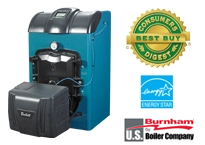 What you need to know about the MPO-IQ.
We are delighted to offer the newly designed Burnham MPO-IQ with the Burnham IQ Oil Boiler Control System, a high-efficiency oil-fired heating boiler rated among the best for versatility, ease of installation and least likely to need maintenance.
Overview – key features
High Efficiency 87% Annual Fuel Utilization Efficiency (AFUE)
3-pass Cast Iron Sectional Design
Built-in Return Water Temperature Protection
Natural Draft Oil Boiler
Five Sizes Available, from 0.60-1.65 GPH
Direct Vent Option Kit
Easy Installation/Servicing through Reversible Swing Door with no Target Wall/Blanket Required
Five Sizes Available, .60-1.65 GPH
Multiple Burner Options
Rated a Consumers Digest "Best Buy"
Pricing and services.
Please click here for one of our representatives to contact you
To maintain the longevity of your home heating system, service is key. Burke Energy's technicians are all licensed and bonded, and are available to help whenever you need them, 24/7. Our technicians and local customer service team are prepared for any job, from installations of new equipment to tune-ups for existing equipment.
All MPO model furnaces come with a limited lifetime warranty plus 1-year parts and labor.
Service tips
Have furnace nozzle cleaned regularly
Pump should be serviced for draining
Clean chimney base connected to the furnace
Ask about equipment upgrade programs