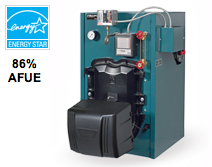 Megasteam (MST) Boiler.
Highly efficient economic oil-fired steam boiler.
With the MegaSteam (MST) boiler, you will never have to question your family's comfort. With an Annual Fuel Utilization Efficiency (AFUE) of 86%, the MST is one of the most efficient and reliable boilers on the market. It was designed to be the best option for your family's heating needs, and one of the best boilers on the market.
Overview – key features
High efficiency 86% AFUE
New Burnham engineered 3-Pass design
ENERGY STAR Certified
High corrosion resistance
Superior steam quality
Tankless heater available
Beckett AFG burner with cover
10-year Block warranty
1-year Parts & Labor warranty
5-year Corrosion warranty
Pricing and services.
To maintain the longevity of your home heating system, service is key. Burke Energy's technicians are all licensed and bonded, and are available to help whenever you need them, 24/7. Our technicians and local customer service team are prepared for any job, from installations of new equipment to tune-ups for existing equipment.
All MPO model furnaces come with a limited lifetime warranty plus 1-year parts and labor.
Service tips
Have furnace nozzle cleaned regularly
Pump should be serviced for draining
Clean chimney base connected to the furnace
Ask about equipment upgrade programs